Business name: Extasica s.r.o
Activity: sexshop, family business from 2016
Focus: BDSM, dildos, clinical sex
Scope: European Union
Purpose, principles and what makes us different
In our experience, sex shops offer low - quality sex toys as standard, including dangerous products at overpriced prices (see Sex Toy Museum). Our goal is to carefully select for you quality erotic toys from all over the world with sufficient added value. That means sex toys, which cannot be replaced by a cheaper product of the same quality. 
We test the erotic aids ourselves and only about 1 product out of 100 goes on sale. We even design some toys. We write tips and recommendations from our own experience and in depth to help you, and not just as a fashionable marketing accessory without added value.
Our policies: fair dealing, good reputation, minimum marketing, no harassment emails and maximum protection of your privacy.
Unusually low prices on sex toys - low margins and costs, we are semi-wholesale
Sex shops normally buy from local distributors. We take 80-90% goods directly from the manufacturers. Therefore, we can often offer wholesale prices.
When buying a sex toy, many people make decisions in excitement - irrationally. According to the 2015 annual report, the largest store in the Czech Republic, Erotic City, has an average surcharge on the purchase price of 265%, after taking into account discounts and sales, ie. basic surcharge 300%. For other online sex shops, the standard surcharge is approx. 100-150%. In the sex shop Extasica, the average basic markup is 85%. The exception is highly established brands such as Satisfyer, where the surcharge in all stores is only 10-80 % (in our case approx. 25%) and some other products. The resulting mark-up to the price with sales and discounts is approx. 75% (41.7% gross margin). You can buy alternative or even identical erotic aids or toys from us for one-third to two-thirds cheaper. In order to verify this statement and make comparison possible, we also try to identify sex products with the international EAN designation.
Thirdly, limited opening hours, free software, usually wholesale packaging (simple packaging) enable low costs. So also low prices. We spend only 10% of turnover on advertising (the industry average is 20%). You, our customers and your referrals, are our advertising.
Quality and fair action
From 2022, we offer only the highest quality in the category of dildos and studs TPE and liquid silicone, when elsewhere hard PVC plastics, PVC gels, TPR and old hard medical silicone are the standard. Only in the BDSM segment will we also keep sex tools of lower material quality (PVC leather). The prices of BDSM toys made of cheap leather are compared to BDSM tools made of quality leather at the level of 1 / 5 but even 1 / 10. Unlike Extasica, 95% sex shops do not offer quality BDSM toys at all.
We do not approve sex toys of the lowest quality for sale (for more see Sex Toy Museum) such as dangerous vaginal mirrors, low-quality handcuffs (which cut hands), low-quality pumps or inflatable devices (leaks air, does not keep shape). Nylon or plastic immobilization belts with Velcro fasteners. You can find these dangerous sex tools in the vast majority of sex shops. Even one reputable sex shop has been writing on their website for months that the dangerous anal mirror cuts their mucous membranes. They still sold it :). Unfortunately, such an approach is rather standard in sex shops. At Extasica, we throw away dangerous erotic toys. If we do not like a safe product, we do not try to sell it for the full price - it goes straight to the sale with a description of defects or negatives and for a fraction of the price.
We provide truthful information in the articles and descriptions of sexual aids. That should be the standard, but it isn't. See, for example, whether your favorite sex shop mentions popular marketing nonsense in the description of the vacuum pump, how the pump will lengthen your penis, or how an enema benefits health and cleansing the body. . . We describe the advantages, disadvantages and alternative ways of using sex toys.  We usually compensate customers for errors with a 10 % discount.
Thanks to direct communication with manufacturers, we are able to advance the development of some products or determine qualitatively better properties.
Selection, quality testing of erotic aids, description and photography
We choose erotic accessories mostly at world exhibitions (Hong Kong, Shang Hai) from direct suppliers. We select a smaller part on the Internet from manufacturers or distributors.  Of the sex toys for sale we reviewed, we only accept 1% based on quality, appearance, variability of use, and price. We are looking for added value, something that is not available for other erotic toys or their combination for the same price. It does not make sense to have, for example, 20 almost the same dildos or handcuffs, hogtie cross, bed straps and other simple low-quality handcuffs, if it can be (often with us for the same or lower price) fully and safer replaced by a combination of quality leather handcuffs and rope or stylish chain.
We test erotic aids before including them in the offer (test methodology). You cannot buy erotic toys from us that are easily capable of causing injuries or abrasions (eg Velcro harnesses or insufficiently sanded metal tools). Maybe you are deprived of a lot of products that we do not like or do not rate as quality, but you have quality assurance.
We usually photograph the goods ourselves in high resolution and normal light. We do not edit photos.
Development of own sexual aids and cooperation with manufacturers - Extasica Design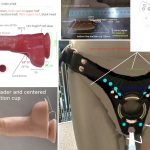 They are not on the market high quality large silicone dildos up to 150 Euros, neither human nor animal or fantasy. They are usually only made of PVC or vinyl, both materials being too hard for a large toy. We produce and sell these dildos at a price from 80 to 150 Euros from 2020. We participated in the development of an ergonomic vaginal pump and some leather accessories. You can find our products or products we participated in developing in the category Extasica Design.
Privacy - We do not know or betray our customer

We will delete all your data after 6 weeks from the order. Protecting your privacy (more in Privacy) is, as far as possible, one of our highest priorities.
Your review on Heureka, Google they help us a lot. OFWe deactivated requests for reviews of the sex shop at Heureka CZ from 2018 to 4/2022 in order to protect your privacy, as Heureka's conditions were not in accordance with GDPR. Other sex shops (95% sex shops in the Czech Republic) shared customer data with Heureka illegally and have many more ratings. The vast majority continue to do so illegally with pre-checked consent prohibited by law. They will also fail to inform the customer that Heureka CZ will receive highly sensitive customer data - your email, information about the content of the purchase. We will not divulge your privacy.
Ecology
If we have information that the production of a certain product is less environmentally friendly, we do not include it or. we will remove it from sale. We supply most of the goods, except for vibrators, in the basic wholesale packaging - plastic bags. This saves on plastic cases or boxes and their transport. Shipping is calculated by volume. In addition to nature, it also saves you money. We use already used boxes for the transport of goods.
What we don't want to offer
Latex as goods with a relatively increased hygienic and health risk (absence of ventilation, skin reactions). Latex can be replaced by a more natural, comfortable and cheaper alternative (eg role playing, costumes, sex in different places, handcuffs, metal and leather clothing). We perceive chemical stimulants, magnifying creams and other chemical products as unnatural and harmful (Poppers etc.). We are not satisfied with the design of erotic clothing in any price category and we are withdrawing from the segment. We have also withdrawn from the condom sector, where the market is working well enough. Artificial vaginas and masturbators do not make sense to us (why: article here).
Why do sex shops mainly have erotic aids from China and not from the USA or Europe?
70% erotic goods are made in China and this trend is strengthening. Not only because of the price, but paradoxically contrary to the common idea as well because of quality. Extasica is even gradually moving away from reputable Western goods, as they are often of lower quality than well-selected non-branded Chinese erotic aids. For a long time, China has played a major role in the segment of erotic gadgets not only in terms of price, but also in terms of materials and technologies. For example Liquid silicone vibrators are manufactured only in China, although it is a technology purchased in 2019 from Germany (at least from the Chinese brand Mrimin). In the West, production simply doesn't pay off, and often so does the development. Renowned Western companies like PipeDream and Doc Johnson offer 10, 20 year old products until people stop buying it for that expensive money. Mostly also made in China. Most of the erotic toys in our country, as well as European distributors and sex shops, are therefore from China, including the world's best-selling branded German Satisfiers.
Your voice
Many companies, including successful ones, often do not care about customer suggestions or implement them reluctantly. E.g. Heureka forces sellers to come up with nonsensical product names. Paypal is unable to top up an EU citizen's credit in dollars. We usually implement your suggestions for improvement within a few days and it will help everyone. If you give us a rating on Heureka, Google or similar reference portals, it will help us a lot.
Milestones
September 2016 start of the cheapest smsexshop.cz sex shop in the Czech Republic
2019 transition from smsexshop.cz to extasica.com, own suppliers from different parts of the world, delivery to the EU, first exhibition Erofest Praha
2020 design and development of own silicone fantasies and animal dildos
Web design and logo
Web design, logo and logo color finalization: David Lembas, (logo color palette Alex Hatal)
More information: Terms and Conditions, Attractions